I just played for a wedding ceremony at the Alfond Inn in Winter Park FL.  This was one of the most beautifully decorated locations I've ever seen.  The Alfond Inn is a new venue in Orlando, in the center of the Rollins College campus in Winter Park.  There are several options there for ceremony sites, including outdoor areas.  However, the Conservatory is my absolute favorite.
The Conservatory is located directly behind the main entrance.  It's an open space with numerous windows, offering the perfect room with a view — especially appreciated in Florida to have a beautiful outdoor view while enjoying the comfort of AC…  There is also a huge glass dome overhead that allows wonderful natural lighting to flood the area.  Simply perfect.
When I arrived at the Alfond – wheeling my Harp in on the dolly — I turned the corner to the Conservatory & actually drew in my breath.  The room was glorious.  Much of this had to do with the genius of the Floral designer – Lee Forrest.  His work is extraordinary.
I placed my harp for the most dramatic impact for guest arrival and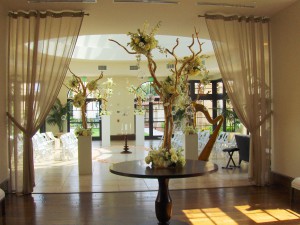 entrance of the bride.  The Ceremony was enchanting.