Over the past couple of years I've seen a new trend for wedding ceremonies:  the use of Signs.  Creative, decorative signage is being utilized by many couples not only to welcome guests to their wedding day, but to convey messages as well — regarding seating, program information, and use of electronic devices.
Here are two really cute examples of Signs used for guest seating information.  Blackboards with colored chalk is a popular choice.
One of my recent couples had their Wedding Ceremony & Cocktail Hour in an outdoor garden setting.  In lieu of formal programs, they used a Sign to provide wedding party information.  It added a lovely touch to the entrance.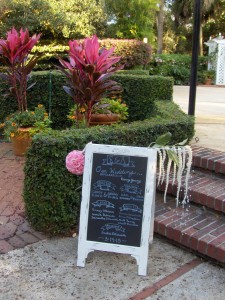 And a notification for an "Unplugged" Ceremony — requesting guests to put away all electronic devices and simply sit back, relax, and enjoy the Ceremony!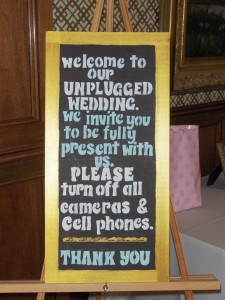 At the same wedding I also loved the Sign & framed poem placed on the table at the entrance to the Ceremony Ballroom!