Congratulations & many thanks to my 2012 Orlando wedding couples & families for their wonderful reviews on Wedding Wire:  Wedding Wire – Harpist Catherine Way and The Knot:  Harpist Catherine Way – HarpStrings, Inc.
I love to help my brides choose the perfect Harp music for their Orlando weddings.  I also like to share ideas from previous weddings…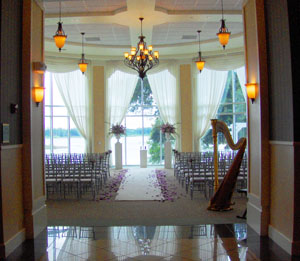 The Lake Mary Events Center is a gorgeous location.  The Rotunda, with floor to ceiling windows, affords a lovely view of the lake while guests enjoy the comfort of indoor AC.  It's the perfect "Room with a View", especially for Summer Florida weddings & events.  One of my July 2012 brides choose to keep the curtains closed during Prelude music.  Five minutes before the Ceremony, the curtains were drawn, revealing the beautiful lake view behind the altar area — a dramatic & effective touch!
Leu Gardens is a popular location for local Orlando and destination weddings.  I've performed for hundreds of weddings there in every possible area.  This September I played Harp for 2 weddings in the Rose Garden, 2 days in a row, and loved seeing the Brides' individual & unique decorating choices.  Kendra chose a natural archway for the altar area; Rachelle supplied colorful parasols for guests.  Both couples had chilled water for their guests — so thoughtful & much appreciated by everyone!
A beautiful Harp adds so much to the aesthetic appeal of a location.  I love to take photos of my Harps in various locations — featured venues are (left to right) Orlando Museum of Art, Cypress Grove Estate House, and Portofino Hotel.